The PinPointe Foot Laser® is FDA approved laser equipment that is specifically intended to target and destroy the pathogens entrenched in the nail bed and nail plate that cause nail fungus. At Family Foot & Ankle Care our expert doctors utilize this leading-edge technology to treat and re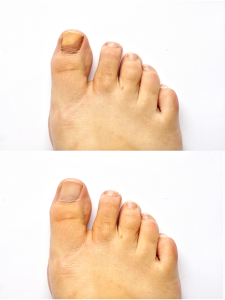 medy the nail fungus. The laser toenail fungus removal procedure is effective without dangerous oral medication.
How much does Laser Toenail Treatment cost?
Toenail Fungus Laser Treatment costs less than other option prescription medications for most patients. Often our patients have tried these expensive prescriptions in the past, often without success. We offer several payment possibilities and our Family Foot & Ankle Care staff will be happy to answer any questions you have.
Toenail laser treatment offers a new substitute to oral medication, which may carry a risk of liver damage. It conventionally takes around 3 months for oral medicines to treat toenail fungus, but the success rate is less than half. These prescription products usually cost quite a bit, ranging from $200 – $1600 depending on the frequency, dosage, and treatment length.
Is Nail Fungus Laser Treatment painful?
Simply said- no, most Family Foot & Ankle Care patients describe a warming sensation and the entire process takes less than 10 minutes per foot.
Does insurance cover Toenail Fungus Laser Treatment?
Currently the laser toenail fungus procedure is not included as a health insurance benefit in most plans; however, the initial foot consultation at Family Foot & Ankle Care takes only 15 minutes. Insurance plans will consider the laser toenail fungus treatment a cosmetic / aesthetic procedure and therefore does not provide coverage.
What are my payment options for The Laser Treatment?
If you have a Health Savings Account (HSA), Medical Individual Retirement Account (Medical IRA) or other Flexible Medical Spending Accounts (Medical FSA), you may pay for the laser fungus treatment with these funds. Otherwise, payment can be made conventionally with cash, credit or debit card.
At Family Foot & Ankle Care offers consultations to all new patients where you can come in, speak to the doctor, and get all of your treatment options. Book your Family Foot & Ankle Care consultation now, by clicking here or give us a call at (757) 547-3668